Culinary and Nutrition Program Overview
There are many ways to turn your passion for cooking and nutrition into a meaningful, successful profession. As a student in Bastyr's Bachelor of Science in Nutrition and Culinary Arts program, you'll learn whole-food nutrition and food science. In addition, you'll develop the culinary skills you need to create meals that are superior in both taste and therapeutic nourishment and contain plant-forward ingredients. 
Cost
$661/credit hour (average)
Bachelor's Completion Degree Program
Learn Nutrition Principles and Cooking Skills
Planning for Graduate School?
There is a custom track option for our culinary arts program that will set you up for success in applying for one of our graduate school options. Our graduate programs would allow you to be licensed as a nutrition specialist and work in clinical care, research, education, and more. Please reach out to Admissions if this is something you're interested in, as it might alter your pre-requisite requirements slightly. Students also attend graduate degree programs beyond Bastyr in areas such as food science, food systems, and food law and policy agroecology.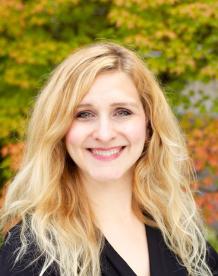 Faculty Spotlight
Kory DeAngelo
MS, RDN, CD
Kory teaches graduate and undergraduate courses in clinical nutrition assessment and therapy, therapeutic culinary nutrition, food writing, and public health nutrition at Bastyr University…
Culinary Nutitrion Program Details
To be admitted to the nutrition program at Bastyr University, transfer students must meet the following criteria:
Complete 90 quarter (60 semester) credits from a regionally accredited college or university or its equivalent (only courses with a grade of C or higher are transferable).
Achieve a cumulative GPA of 2.5 and prerequisite GPA of 2.0.
Complete the general education and major-based prerequisite courses.
Undergraduate transfer students who complete one of the following transfer degrees will satisfy the general education requirements:
Associate of Arts (AA)
Associate of Science (AS)
Direct Transfer Associate (DTA) [WA state]
Intersegmental General Education Transfer Curriculum (IGETC) [CA state]
California State University Breadth [CA state]
Associate Degree for Transfer [CA state]
Note: Technical degrees, such as Applied Science degrees, will not automatically satisfy the general education requirements. They will be reviewed on a course-by-course basis.
Major-Based Prerequisite Courses
General Cell Biology w/lab (for science majors) - 1 course
Survey of Chemistry w/lab* - 1 course
College Algebra or Statistics - 1 course
Introductory Nutrition - 1 course
*Students wishing to pursue graduate studies in Nutrition are encouraged to take two courses of General Chemistry w/lab for science majors instead of Survey of Chemistry w/lab.
General Education Requirements
To see examples of general education courses, please see General Admissions for Undergraduate students.
Arts and Humanities - 5 courses
English Literature and Composition - 2 courses
Other Courses - 3 courses
Social and Behavioral Sciences - 5 courses
General Psychology - 1 course
Public Speaking - 1 course
Other Courses - 3 courses
Natural Science and Mathematics - 5 courses
Major-Based Prerequisite Courses (see list) - 3 courses
Other Courses - 2 course
General Electives - 3 courses or more
TOTAL: 90 quarter/60 semester credits
View a list of prerequisite courses available at Bastyr University.
Therapeutic chef
Nutrition consultant
Cafeteria or sous chef
Caterer
Private chef
Food and health writer
Cookbook author
Health promotion consultant
Product developer in the food industry
Recipe and menu developer for public organizations or private companies