Interview with Landon Opunui, ND ('13) Interim Executive Director & Medical Director at Nā Puʻuwai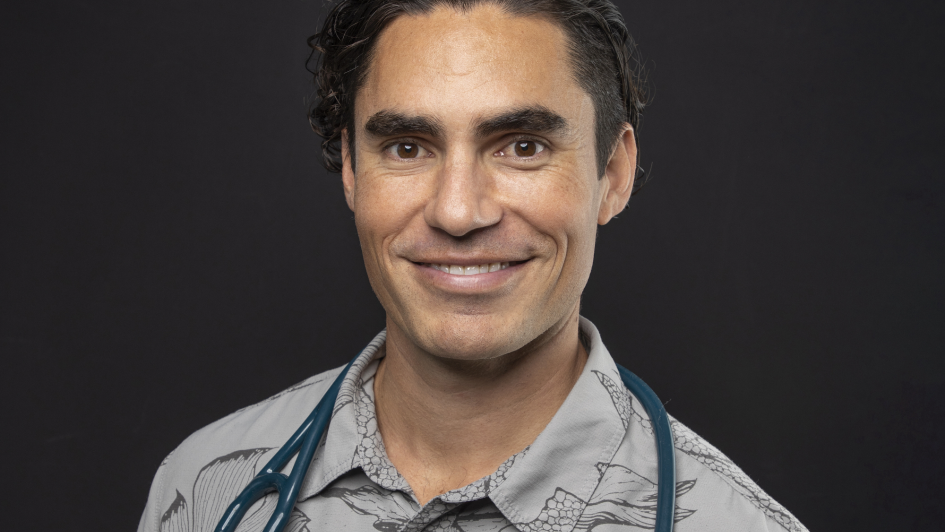 Recently, we interviewed ND alum Dr. Landon Opunui to discuss his mission to improve the health status of rural Native Hawaiians through naturopathic medicine.
What led you to doing the ND program at Bastyr University?
During my undergraduate education, I was on the path to conventional medical school as a premed student, with an interest in sports medicine. Because of my interest in nutrition, and self-awareness that this was not a focus in conventional medical education, I was considering pursuing a Master of Science in nutrition before entering medical school. Coincidentally, my nutrition professor shared a Bastyr brochure with me where I learned about naturopathic medicine for the first time. This moment changed the course of my life and career trajectory. As I perused the pages of the brochure, the principles, the educational framework, and the scope of practice were deeply aligned with how I wanted to practice the art of medicine.
When it came to choosing among various naturopathic medicine schools, Bastyr emerged as my top choice for a few compelling reasons. Bastyr had the most impressive reputation for blending an evidence-based curriculum with a solid research foundation. Studying natural medicine in a natural setting was also important to me, so the beauty of the Pacific Northwest was a great fit for me.
How did your ND education guide you in your career path?
My naturopathic education at Bastyr has influenced my unique perspectives that guide my work as a naturopathic physician in healthcare leadership.
My training in naturopathic medicine at Bastyr, coupled with my Native Hawaiian heritage, paved the way for me to introduce an innovative approach to healthcare in Hawaii serving a predominantly indigenous population with rich traditional healing practices.
What were your clinical interests as you developed into your career?
After concluding my naturopathic medical studies, I felt an undeniable pull to return to my roots. My interest was to serve to the ʻāina (land) and kaiaulu (community) that had so profoundly shaped my identity. Noticing a shortage of primary healthcare providers and recognizing the significant health disparities Native Hawaiians face, I decided to focus my career on enhancing accessibility to integrative primary care while addressing the source of health disparities that are often tied back to the social and cultural determinants of health in pursuit of meaningful improvement in health outcomes.
How did you get involved in Native Hawaiian Healthcare?
My journey towards Native Hawaiian Healthcare was influenced by my education, personal experiences, and a strong desire to contribute to my community.  A pivotal moment was the early transition of my Hawaiian grandmother to our ancestors at the young age of 51 due to a cardiac arrest in her home. Unfortunately, her limited access to both education and healthcare affected her understanding of health literacy and limited her ability to seek appropriate care.
My roles as Interim Executive Director and Medical Director of Nā Puʻuwai have allowed me to find my purpose and place in Native Hawaiian Healthcare. With the honor and privilege of this kuleana (responsibility), I serve the rural Hawaiian islands of Molokaʻi and Lānaʻi, which have the highest percentage of Native Hawaiians per capita among all the Hawaiian islands.
If you could talk to yourself as a first-year ND student, what might you have told yourself or another student?
I would remind myself of the ʻŌlelo Noʻeau, or Hawaiian proverb: ʻAʻohe pau ka ʻike i ka hālau hoʻokahi, meaning, "All knowledge is not taught in the same school."
This proverb emphasizes the importance of humility in professional growth. No single person or profession has all the answers. We never stop learning and we can't expect to learn everything from one institution, mentor, or professor - knowledge and wisdom come from a variety of sources, including the patients that we serve.
With this in mind, I would encourage my younger self to seize every opportunity to expose myself to a wide range of learning experiences that go beyond the walls of Bastyr and our profession. By doing so, one can explore some of the unique applications of our naturopathic medical education that can be used in broader contexts to empower health locally, nationally and globally.
How did you get interested in functional medicine and how do you utilize it as part of your practice?
My primary interest in functional medicine is to offer integrative medicine training to our interdisciplinary team of providers as we strive to work as a team with different clinical backgrounds to provide aligned, effective and comprehensive healthcare to those we serve. I value functional medicine as a practical tool to apply integrative medicine concepts in practice.
What would you say to an ND student who may be overwhelmed in the program, struggling to keep the dream alive?
I would share another favorite Hawaiian proverb of mine that has been a guiding principle for me in challenging times: ʻO ke kahua mamua, mahope ke kūkulu which translates to "The foundation first, the building afterwards."
It is human nature to feel overwhelm or doubt when visioning our dream job, practice and life. It is important to remember that it is not about how quickly you can build your career but about how solid the groundwork is upon which it stands. Trust that the principles of naturopathic medicine and the training that you receive at Bastyr is a solid foundation that will help you build a strong base.