A Word from the Graduates: Commencement 2023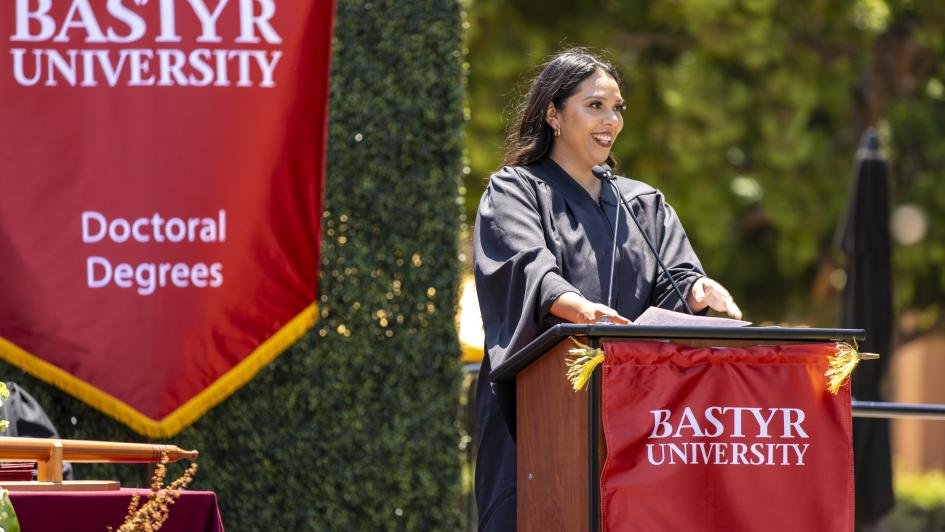 Commencement at Bastyr is an exciting time for all graduates – a time to reflect on the lessons, the challenges, and the ways in which their communities got them through. This year's commencement ceremonies were no exception as we honored 218 new graduates into the Bastyr alumni family.  
Each student speaker had words of wisdom to pass along to their fellow classmates. Here are some of our favorites:  
"Our lights have the power to ignite the light of others, which inspires them to brighten their light and inspire the light of others. The impact that we can make on others has a ripple effect that will empower and change the world."   
Rebecca Wendfeldt, Undergraduate Speaker, Bachelor of Science in Psychology 
"It is not whether we fail or fall that defines us, but what we do next that does. You see, giving up is easy, but trying again when you fail and pushing through even the worst of times to get to that light at the end of the tunnel requires willpower and strength. So celebrate your successes but also celebrate your failures and the hard times because these moments are true testaments of resilience, tenacity, and character." 
Ashley Marasigan Castillote, Graduate Speaker, Master of Science in Midwifery (Seattle Campus)
"We have been gifted with the knowledge to succeed at school, humility to accept our faults and weaknesses, the perseverance to work hard against all odds, and the strength to overcome life's obstacles... The journey that lies ahead is unknown, but as we enter the road, we are older, wise, stronger, ready to face whatever life has in store for us. Even in times of adversity, it is totally up to you to turn things around and prove that you will succeed." 
Crystal Alvarado, Graduate Speaker, Master of Arts in Counseling Psychology (San Diego Campus)
"Bastyr has provided us with fertile soil and it nurtured us from mere seeds of potential when we first arrived. It created the right environment for us to blossom into physicians… Just as there are roses, and fruits, and vegetables in a garden, each of us brings a unique contribution to the field [of naturopathic medicine]." 
Sahar Naghibi Khamnei, Doctorate speaker, Doctor of Naturopathic Medicine  (Seattle Campus)
"With all the adversity we were faced with, we rose, like a phoenix from its ashes, and persevered. Even when we didn't know what was going to happen [during the pandemic], we maintained our belief in our medicine and in our education."  
Poonam Gahlla, Doctorate speaker, Doctor of Naturopathic Medicine (San Diego Campus)
President Byrd also shared wise words with these newest graduates.  
"It is so important and critical to understand that being uncomfortable, being in a state where you've never experienced the level of uncertainty or lack of knowledge, doesn't mean that you don't have the capabilities to achieve your new tasks and goals.  It is an indication that you are in a growth process and that you must move forward daily and with purpose."      
The world is changing, as are conversations around what is adequate, comprehensive care for all people. Our most recent alumni leave Bastyr perhaps a little nervous to enter the "real world," but no doubt prepared to take health care by storm!