Recipe: Gluten-Free Dairy Free Cheesecake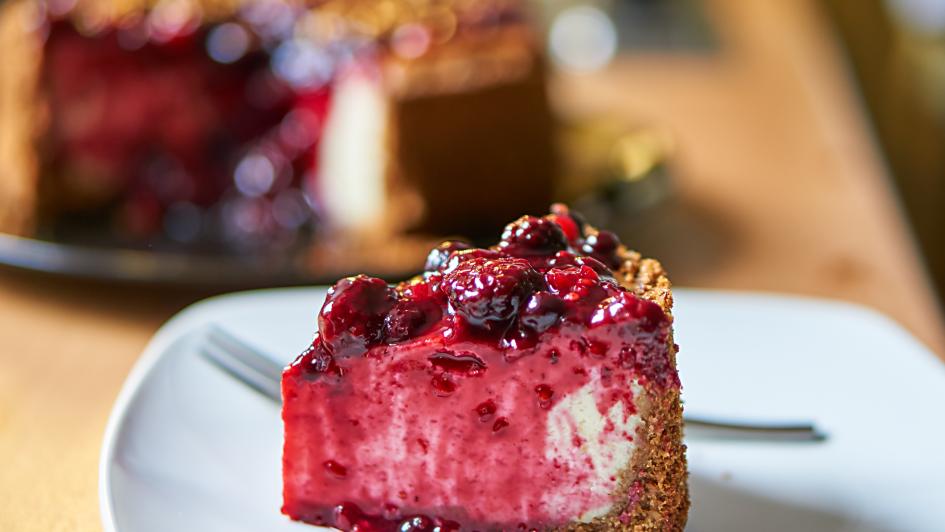 Published February 01, 2023
Try this healthier alternative to a classic berry cheesecake. This gluten free dairy free recipe includes berries chock full of antioxidants and protein packed pecans. Include this dessert as part of your Valentine's Day meal.  
Ingredients
Crust  
2 cups pecans, soaked 4 hours 
1 cup raisins or dates, soaked 2 hours 
Filling 
3 cups cashews, soaked 6 hours 
3/4 cup lemon juice (about 4-5 medium lemons) 
3/4 cup coconut oil  
3/4 cup honey (or agave syrup for strict vegan version)  
2 tsp vanilla extract 
1/2-1 tsp salt 
Instructions
Soak cashews for 6 hours, pecans for 4 hours and raisins or dates for 2 hours.  Drain and rinse.   
For the crust, pulse soaked pecans and raisins or dates in a food processor until crumbly, resembling the texture of a graham cracker crust.   
Spray a 9" springform cheesecake pan with olive oil or oil of choice (option to use cupcake pan with cupcake liners for single-serve option) 
Press the pecan mixture into the bottom of the pan, try to make it flat and even. 
For the filling, mix soaked cashews, lemon juice, coconut oil, honey (or sweetener of choice), vanilla and salt in a high-powered blender.  Start on low for ~15 seconds and work up to high.  Blend until smooth.  Add just enough water, if necessary, to get a very smooth consistency. 
Pour the filling over the crust.  Cover with plastic wrap and place in the freezer for at least 8 hours.   
To serve, allow to thaw a little, it will be easier to cut.  But do not thaw too much, as it will become mushy and lose form and texture.   
Top with raspberry, blackberry, strawberry or other sauce of choice, if desired.   
Berry Sauce Topping
Ingredients
12 oz (2 packs) berries of choice 
1/4 cup granulated sugar 
2 Tbsp water 
2 Tbsp lemon juice  
1/2 tsp vanilla extract 
1 Tbsp cornstarch  
Instructions
In a saucepan over medium heat, add berries, sugar, water, lemon juice and cornstarch.  Stir to combine.   
Bring to a boil.  Reduce heat to medium-low and gently mash the berries with a spoon as the sauce cooks.  Cook sauce for 10-12 minutes, or until the berries have broken down and the sauce looks shiny.  Remove from heat, add vanilla extract and stir to combine.   
Option to strain through a fine mesh sieve using a rubber spatula to gently press the sauce through the sieve.   
Store in the refrigerator up to 1 week.   
Recipe by Dawna Sweeny, ND