Dining Commons Opens after Three Years of Closure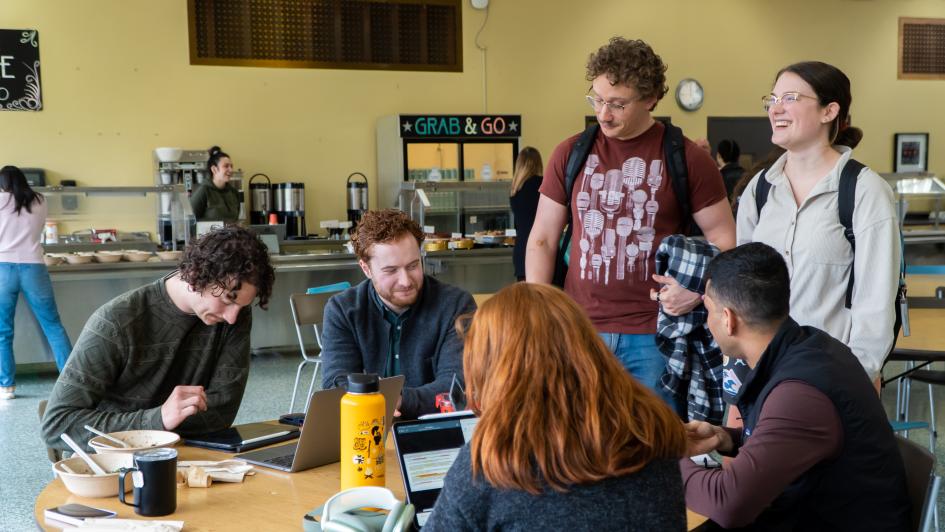 As March 2020 becomes more of a distant memory, it's crazy to think back on what happened at Bastyr. 
Students and staff went to campus one day and then... didn't. The Dining Commons was no exception. For a while, it remained frozen in time. Unfortunately, the university had to make the tough decision to suspend all Dining Commons services, and when classes returned to in-person instruction in September 2021, the Dining Commons wasn't safe to reopen yet. 
If you're a Bastyr community member, you know – the Dining Commons is a hub. If you came here prior to the pandemic during lunchtime, you were hard-pressed to find a seat – every table was filled with students catching up in between classes, tour groups stopping by to hear about our unique approach to food, and staff members taking important visitors out for lunch. There was laughter, delicious smells, relationship-building, and most important, coffee.  
Bastyr has officially reopened to Dining Commons! While it won't be at full capacity right away, you can look forward to these services below, with a bit of insight from our new director, Scott Emerick.  
Coffee Bar
Drip coffee will be available, with a re-opening of the espresso bar serving Olympia coffee with the hope of rotating different coffees every month and having roasters come in and chat about coffee with us.  
A few other drink options we can look forward to:  
Warm elixirs made with filtered water, nut, oat or seed milk of choice. Add raw organic coconut butter for creaminess 
Adaptogenic morning energizer - White atractylodes and astragalus (to support immune function, digestion and metabolism), reishi for calm, rhodiola for focus, and sweetened with raw monk fruit. 
The Adaptogenic midday offering will reawaken and restore. It contains vitamin C-rich goji berries, rhodiola, (which sharpens focus) and astragalus and codonopsis (both of which support immune function, digestion and fight the drifting energies of low blood sugar). Lastly, this drink includes rehmannia and reishi, which supports the adrenals and promotes longevity. 
Adaptogenic Organic Anandamide – This yummy drink includes raw unsweetened cacao powder, tocos ashwagandha, reishi, maca, moringa, turmeric, astragalus, cayenne, and cinnamon. 
Flying Bird Botanical Ceremonial Matcha and Alpine Honey  
Flying Bird Botanical Golden coconut chai matcha 
Vegan Golden Milk - turmeric, ginger, cinnamon, cardamon, nutmeg clove, black pepper sweetened with maple syrup 
Gardens Collaboration
Just like it's always been, the Dining Commons will be cooking meals that include produce and herbs from our beloved Bastyr Gardens. Dishes will contain whole foods with a plant-based focus. Dishes will be unique but delicious at the same time, with plenty of treats. 
"I think it seems like a natural partnership; we will be utilizing everything we can from the Bastyr gardens. I mean, for me personally as a chef, the way I look at menus and what I offer is I work backwards from what I receive and try and find interesting things to serve with those things," said Emerick.  
What's on the menu? 
For this first opening quarter, the Bastyr community can expect two different types of entrees, which will be provided in individual servings. The menu will mainly consist of plant-based menu items made from seasonal products, with an aim to provide healthy and delicious meals. And of course, sweet treats will be available for those with a sweet tooth! 
New Director: Scott Emerick 
Scott received his culinary degree from the esteemed E'cole Superieure de Cuisine Francaise from the highly regarded Ferrandi in Paris, France.  
Once back in the states, Scott took positions working at some of Seattle's most regarded restaurants, including Campagne, Le Pichet, Lark, and Harvest Vine.  
Scott spent his time developing and rebranding several Seattle restaurants. He created the concept and design of Seven Beef and its whole cow butchery program with grass-fed, pasture-raised Heritage Meats, as well as the vegetarian menus with small, local, organic farms. He was brought on as executive chef for Belltown Hospitality, overseeing three concepts: rebranding for truly local ingredients at Local360, the daily changing plant-based tasting menu at Local Vegan, and the monthly Pop-Up Shop featuring a collaboration with local craft brewers, wineries, bakers, cheesemakers, and famers. Scott also reinvigorated the menus at Hotel Bellwether in Bellingham, WA, where he shopped directly from the fishing boats in the Salish Sea and celebrated the bounty of Skagit Valley farmers and also hand-selecting natural, and biodynamic boutique domestic wines. 
Emerick's Plans for the Dining Commons 
At Bastyr University, Scott brings his dedication to local ingredients by way of the surrounding farmlands, his influence of French discipline, creativity for new flavors, and celebrating the best of classic dishes with a focus on seasonal vegetables.   
Scott places a high importance on health and a healthy positive environment.  He honors nature, the natural world, and supports the connections with nature and nurturing a healthy mind and healthy lifestyle.  His goal as a chef is to provide nutrition in a mindful, kind manner and to be grateful for the bounty of the Pacific Northwest. 
While Scott enjoys many different cooking experiences he looks forward to a long, successful relationship with Bastyr University. 
Hiring Scott
"When we were reviewing candidates for this position one of the criteria we used was hoping to find somebody who had an approach to food and philosophy in terms with that was consistent with our mission and vision here and not just someone to come in and produce cafeteria food." - Ray Oen, Chief Financial Officer at Bastyr University 
We're so excited to have Scott join the Bastyr community and can't wait to see all the ways in which he brings the Dining Commons back to life!