How to Manage Food Cravings (PSYCH - 13HOWT11
November 16th, 2013 9:00 AM through 12:00 PM
14500 Juanita Dr. NE




Bastyr University


ROOM 1011


Kenmore

,

WA

98028-4966




United States
| | |
| --- | --- |
| General public | $ 55.00 |
| Bastyr/NIAOM Alumni | $ 45.00 |
| Full time student | $ 25.00 |
| BU Staff | $ 45.00 |
| | |
| --- | --- |
| Audience | general public, full time students |
| | |
| --- | --- |
| Exclude from main events feed | No |
Why are some people able to live in harmony with their food cravings and avoid eating to excess, while others struggle daily and feel out of control? We all have food cravings. Is it possible to overcome them or at least moderate their impact on our health? The answer is yes! Instructors: Kelly Morrow, MS, RD, & Dan Rosen, PhD. Nov 16, Sat, 9a.m-12p.m. 3 HRs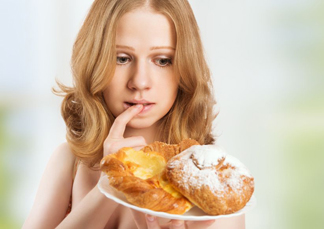 No one would care about cravings if they drove us to eat broccoli and kale. But as everyone knows, people usually crave foods that are not so healthy when eaten in large quantities. Craving preferences can vary from person to person and among men and women, but research shows that most people have them. Almost universally, we crave what are called "highly palatable foods" – foods high in sugar, salt and fat. Foods like chocolate, candy, potato chips, ice cream, pizza and the list goes on. Scientists often use words like uncontrollable, insatiable and hijacked brain to describe how people consume them. We have a deep biological drive to eat these foods whether we are hungry or not.
Cravings are a natural part of being human. In fact, there is nothing inherently wrong with having a craving as long as giving in doesn't lead to health problems. It is possible to live in harmony with our cravings. In this seminar, Bastyr University nutrition and psychology professors will review the latest research and strategies for bringing order to the chaos of food cravings.
Upon completion of the seminar you will be able to:
Identify characteristics of three of the most commonly craved foods
Define theories about what causes a craving
Describe what happens inside the body during a craving
List strategies for managing cravings from a holistic perspective, both nutritional and psychological
Course Note: The optional text The End of Overeating, by David Kessler may be available in the Bastyr bookstore. Call ahead for availability: 425-602-3026.
Location: Bastyr University Kenmore Campus, room 1011. Bastyr University is housed in an older facility with fluctuating interior temperatures; it is advisable to wear layers. Also, Bastyr is a "fragrance-free" campus.
Instructors
Kelly Morrow, MS, RD, is a core faculty member in the Department of Nutrition and Exercise Science at Bastyr University. She is a clinical supervisor at the Bastyr Center for Natural Health and also sees patients in her private practice at the Bastyr Center. She works from a functional medicine perspective and takes a detailed history from her patients in order to identify the genetic, environmental and lifestyle factors that influence health.
In addition to being a clinical supervisor at the Bastyr Center, Kelly teaches Nutrition Assessment and Therapy, Clinic Practicum, and Nutritional Supplementation in the graduate program in nutrition at Bastyr University. She has authored a number of articles and regularly serves as a public speaker on diet and nutrition. Kelly gives lectures on nutrition-related topics to lay audiences, corporate groups and health care professionals. She has been interviewed for radio and TV including "KOMO 4 News," "Evening Magazine," "King 5 Healthlink,","Q13 News," and KIRO radio's the "Ron and Don Show" with Rachel Belle. She is often quoted in magazines, newspapers, and news websites including the The Seattle Times, Bottom Line Daily Health News, MSN, Bastyr Magazine, Northwest Prime Time, PCC Sound Consumer, Alaska Airlines Magazine and Healing Lifestyles & Spas magazine.
Daniel C. Rosen, PhD, is an Associate Professor at Bastyr University in the Department of Counseling and Health Psychology. He earned a PhD in Counseling Psychology from Arizona State University after completing his predoctoral internship at the Center for Multicultural Training in Psychology at Boston Medical Center/Boston University School of Medicine. He completed his postdoctoral clinical fellowship at Cambridge Health Alliance/Harvard Medical School in the Behavioral Medicine Program. Dr. Rosen has a private practice in Seattle, WA.