Treating Eating Disorders: Concepts & Applications (PSYCH - 13TREA09)
September 27th, 2013 6:00 PM through September 28th, 2013 4:00 PM
14500 Juanita Dr. NE




Bastyr University


ROOM 1011


Kenmore

,

WA

98028-4966




United States
| | |
| --- | --- |
| Professional after 9/4 | $ 295.00 |
| Bastyr/NIAOM alumni after 9/4 | $ 270.00 |
| BU Staff | $ 236.00 |
| Full time student | $ 95.00 |
| | |
| --- | --- |
| Audience | health care professionals, full time students, counselors, mental health therapists, social workers, acupuncturists, nutritionists & dieticians |
| | |
| --- | --- |
| Exclude from main events feed | No |
Have you ever noticed that you received little to no specialized training about eating disorders in your graduate school experience? Ever wonder about the interplay between eating disorders and substance use, LGBTQ issues, males, orthorexia and athletes? This seminar, led by a psychologist and registered dietician both specialized in eating disorders, will answer these questions and more. While this seminar is open to all health care professionals, it is ideal for professionals already in the field of eating disorder work, or for those who have a foundation in the understanding of eating disorders. Sept 27 & 28, Fri, 6p.m.-9p.m. Sat, 9a.m.-4p.m. Instructors: Melissa McLain, PhD & Amanda Mellowspring, MS,RD,CEDRD. 8.5 CEUs, PDAs, CMEs, CPEUs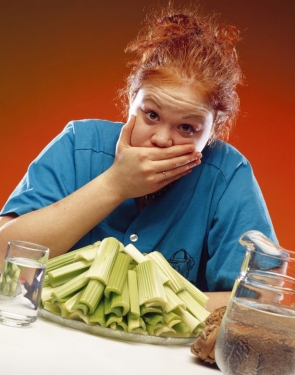 This seminar will be a biological, psychological, nutritional and social review of eating disorders and their effective treatment. Discussion will start with the contextual climate of eating disorders and disordered eating, including sociopolitical and media influences. Trends of clinical significance that will be explored and discussed include Orthorexia Nervosa and special populations (athletes, males, mature women, GLBTQ, and women of color).
The relevance of the treatment team approach and the role of each member of the treatment team will be described to include therapists, nutritionists, physicians, psychiatrists, and adjunctive care providers (i.e. CAM providers and medical specialists). Additionally, psychological treatment discussions will include co-morbidities, such as self-harm behaviors, depression, anxiety, substance abuse, personality disorders and trauma history.
Clinical approaches will be reviewed with a special focus on the importance of a diverse treatment team. Specific clinical tools for use with eating disordered patients will be provided as well as clinical examples to clarify treatment models. Clinical approaches for nutrition and medical management will include a review of published standards of Practice and Standards of Professional Performance for Dietitians working with eating disorders and disordered eating (Academy of Nutrition Dietetics). Medical nutrition education will cover refeeding syndrome, hypermetabolism and weight restoration/management. Discussions and experiential exercises will include mindful eating and intuitive eating principles. You'll also explore working with families in eating disorder recovery, self-care for professionals working with eating disorders, and future directions in the comprehensive treatment of eating disorders.
Upon completion of the seminar you will be able to:
Differentiate between Anorexia Nervosa, Bulimia Nervosa, Binge Eating Disorder, and exercise compulsion
List common treatment approaches for the successful treatment of eating disorders
Demonstrate nutrition counseling techniques specific to this population
Differentiate between recognized diagnostic eating disorders and clinically relevant eating disordered behaviors and patterns
Describe the interplay of a multi-disciplinary treatment team approach in working with eating disorders
Demonstrate the balance of setting boundaries and building rapport with eating disorder patients with co-occurring psychiatric diagnoses
Differentiate mindful eating and intuitive eating principles
Cost Note: Receive a discount, register by 9/4.
Meals: Fri - bring a sack lunch or snack and drink. Sat/Sun - one hour lunch break - bring a sack lunch or eat in Bastyr's dining commons.
Location: Bastyr University Kenmore Campus, room #1011. Bastyr University is housed in an older facility with fluctuating interior temperatures; it is advisable to wear layers. Also, Bastyr is a "fragrance-free" campus.
Continuing Education Units (CEUs, PDAs, CMEs, CPEUs):
CEUs available for NDs (except CA & OR)
CEUs available for marriage & family therapists, mental health counselors, and social workers licensed in WA
CEUs available for PTs & OTs licensed in WA
CEUs available for ARNPs and RNs licensed in WA
CEUs available for DCs licensed in WA
Category II CMEs available for MDs and PAs licensed in WA
NCCAOM PDA points approved for LAc's
ADA CPEUs approved for RDs
Optional Texts: These books may be available in the Bastyr Bookstore – call ahead to insure books are available 425-602-3026),
Intuitive Eating, Evelyn Tribole & Elyse Resch
Eating in the Light of the Moon, Anita Johnston
The Eating Disorders Clinical Pocket Guide, Jessica Setnick
Nutrition Counseling in the Treatment of Eating Disorders, Marcia Herrin
The Eating Disorder Sourcebook, Carolyn Costin
Instructors:
Melissa McLain has served as the Clinical Director of Oliver-Pyatt Centers since 2008. She has extensive experience in the treatment of eating disorders. She received her doctoral degree in counseling psychology from the University of Southern California. She completed her pre- and post-doctoral training at the University of California, Davis, as an eating disorder specialist and multidisciplinary team coordinator in their counseling and psychological services center. Dr. McLain has presented nationally on eating disorders, cultural issues related to food rules and self-care.
Amanda Mellowspring is a Certified Eating Disorder Registered Dietitian and serves as the Director of Nutrition Services at the Oliver-Pyatt Centers of Miami. Amanda has worked as a leader in nutrition services in a variety of treatment settings for eating disorder recovery that includes residential, partial hospitalization, intensive outpatient, college health and private practice. Amanda currently serves as co-chair for the Behavioral Health Nutritionists workgroup developing Standards of Practice and Standards of Professional Performance for dieticians working with eating disorder populations through the American Dietetic Association. Amanda is nationally recognized author and speaker on the topic of Orthorexia Nervosa and nutrition in the treatment of eating disorders.