New Treatments for Neck Pain, Headaches & Sinus with Microcurrent Positional Technique (PHYSMED - 122NEWT04)
April 6th, 2013 9:00 AM through April 7th, 2013 5:00 PM
14500 Juanita Dr. NE




Bastyr University


ROOM 186


Kenmore

,

WA

98028-4966




United States
| | |
| --- | --- |
| Professional after 3/13 | $ 429.00 |
| Bastyr/NIAOM alumni after 3/13 | $ 389.00 |
| BU staff after 3/13 | $ 349.00 |
| Full time student | $ 95.00 |
| | |
| --- | --- |
| Audience | healtcare professionals, full time students, acupuncturists, massage therapists, physical & occupational therapists |
| | |
| --- | --- |
| Exclude from main events feed | No |
Would your patients benefit from quick and effective pain relief? Can you imagine their response when their tension melts away in seconds? Can you feel their excitement as they tell their friends to call you? Offer your patients faster, longer-lasting pain relief with Dr. Finkelstein's MPT system that integrates ancient and modern medicine. April 6-7, Sat/Sun, 9a.m.-5p.m. Instructor: Malvin Finkelstein, OMD, LAc, Dipl. OM 13 CEUs/PDAs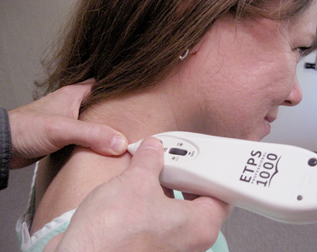 Malvin Finkelstein's 35 years of acupuncture practice led him to develop the MPT system, a simple and effective method for relieving pain, increasing range of motion and accelerating healing. It is effective for acute and chronic pain throughout the body and provides fast, long-lasting results. All of the information and techniques are applicable to acupuncture and other natural health practices without the microcurrent device, but the use of the Dolphin Neurostim greatly enhances the effectiveness of Microcurrent Positional Tuina (MPT) in treating disorders of the neck and head. Watch a demonstration of the MPT system in action: mptclasses.com/video.htm
The seminar includes:
Detailed anatomical slide presentation.
Demonstrations of all points and techniques using Malvin's specialized locations of acupuncture/trigger points.
Malvin's unique acupressure/tuina stretch and optimal body positioning to gently realign soft tissue.
Supervised hands-on practice sessions using the Dolphin Neurostim microcurrent device. Dolphin
Patient education exercises, posture analysis and detailed class handouts.
Techniques to treat neck/upper back pain, whiplash, radiculopathy, migraines, sinus/tension headaches, TMJ, hay fever, sinusitis and more.
Upon completion of the seminar you will be able to:
Describe the components of Microcurrent Positional Tuina (MPT)
Explain and describe Dolphin Neurostim microcurrent and its uses
Explain and describe theory of Positional Tuina
Use Microcurrent Positional Tuina (MPT) to treat neck/upper back pain, whiplash, radiculopathy, migraines, sinus/tension headaches, TMJ, hay fever, sinusitis and more.
Apply and use Dolphin Neurostim microcurrent
Apply and use Positional Tuina
Apply and use Postural Qigong
Describe and apply the most effective acupuncture and trigger points for treatment of the neck and head
Malvin Finkelstein has taught MPT, acupuncture, acupressure and qigong in the U.S. and Europe, and has taught MPT seminars since 2008. He is the author of The Energetic Function of Points, Digestive Disorders - Diagnosis and Treatment and the DVD - 3 Centers Qigong. He is currently writing Qigong for Postural Alignment.
A founding board member of the Oregon College of Oriental Medicine, Malvin Finkelstein was chairperson and a 20 year member of the Oregon Medical Board-Acupuncture Committee. He is a former chairperson of the National Commission for the Certification of Acupuncture and Oriental Medicine (NCCAOM) and the National Qigong Association (NQA), and past president of the Pain Society of Oregon and Oregon Acupuncture Association.
In addition, Malvin Finkelstein has a thriving practice in Eugene, Oregon. He is devoted to his wife-Rosie, his daughter-Dara, his grand daughter-Mia and his dog-Simon. He plays jazz alto saxophone in his spare time with the band "Sahmi". For more information on this instructor please visit his website at www.mptclasses.com.
Continuing Education Units (CEUs, PDAs, CMEs, CPEUs):
CEUs available for NDs (except CA & OR)
CEUs available for LMPs licensed in WA
CEUs available for physical & occupational therapists licensed in WA
CEUs available for ARNPs and RNs licensed in WA
CEUs available for DCs licensed in WA
Category II CMEs available for MDs and PAs licensed in WA
NCCAOM PDA points pending approval for LAc's
Course notes
Dolphin Neurostim microcurrent machines will be provided for use during class. They will be available for optional purchase at the discounted class price of $350. Payment can be by check, cash or credit card to the instructor.
Location: Bastyr University Kenmore Campus, room 186. Bastyr University is housed in an older facility with fluctuating interior temperatures; it is advisable to wear layers. Also, Bastyr is a "fragrance-free" campus.
One hour lunch break – Bring a sack lunch or eat in Bastyr's dining commons.
Cost notes
Receive a discount, register by March 13