Animal Communication: Your Animals Are Talking, Are You Listening? (ANIMAL - 13ANIM04)
April 12th, 2014 9:30 AM through April 13th, 2014 4:00 PM
14500 Juanita Dr. NE




Bastyr University


ROOMS 277 (Sat) & 55 (Sun)


Kenmore

,

WA

98028-4966




United States
| | |
| --- | --- |
| General Public after 3/26 | $ 325.00 |
| Bastyr/NIAOM Alumni after 3/26 | $ 325.00 |
| BU Staff after 3/26 | $ 285.00 |
| Full-time Student | $ 185.00 |
| | |
| --- | --- |
| Audience | general public, full-time students, vets & vet assistants, animal trainers |
| | |
| --- | --- |
| Exclude from main events feed | No |
Do you ever wonder what your animals are really thinking, or want to "talk" to you animals in a language they can easily understand? Join Polly Klein in this exciting on telepathic animal communication. Animal communication is the process of listening to and talking directly with animals through thought. The communication can be experienced through dialogue, body sensations, emotions or pictures. Anyone can learn how. April 12-13: Sat, 9:30a.m.-5p.m. - Sun, 9:30a.m.-4p.m. Instructor: Polly Klein, SAMP, CSTA-D, RMT. (13 HRs)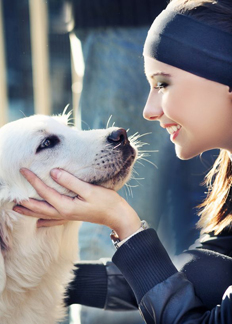 Telepathic communication with animals is a gift available to all of us - we simply need to learn to reconnect with our natural abilities. Polly creates a safe place to learn, explore and play with techniques designed to reveal and strengthen your own natural abilities to communicate with animals.
During the weekend you'll take part in exercises that will "open" your ability to hear the animals around you. You will explore the five main forms of telepathic communication, sending clear non-verbal information to animals, receiving information from animals, and working through the typical personal blocks to telepathic communication. The focus will be on practical experience and there will be a variety of Polly's animals available in Sunday's session for practice.
Upon completion of the seminar you will be able to:
Describe the five main forms of telepathic communication
Discuss how people naturally receive telepathic information
Send clear non-verbal information to animals
Describe personal blocks to telepathic communication and techniques to work through them
Use the new skills to speak to different animals
Cost Notes: Receive a discount, register by March 26. Course fee includes a meditation CD ($15 value).
Course Notes: The only things you need to bring to class are printed photos of each of your current animals. You may also bring printed photos of animals who do not live with you as long as you know the details of their daily lives (such as where they sleep, what they eat, who they live with, what they like to do, what toys they have, and any health concerns or injuries). Photos can be of any species of animal. They will be passed to other students during class activities. Please have them printed out (not just images on your cell phone). All pictures will be returned to you.
Additionally, we will be inviting the spirits of animals who are no longer living to be with us as guides. Please bring pictures of any animal you would like included in this portion of the class. We will be creating an altar in the classroom where these pictures will be placed. If you do not have a picture, you can simply describe the animal to the group and that will work just as well. All pictures will be returned to you.
Meals: One hour lunch break - Bring a sack lunch or eat in Bastyr's dining commons
Location: Bastyr University Kenmore Campus, rooms #277 (Sat) & 55 (Sun). Bastyr University is housed in an older facility with fluctuating interior temperatures; it is advisable to wear layers. Also, Bastyr is a "fragrance-free" campus.
Polly Klein, owner of Tonglen Healing Arts for Animals, is a nationally-recognized animal communicator and healer. After completing her degree at Antioch University in psychology with an emphasis on the connection between mind, body, spirit and health, Polly continued her training at Bastyr University in craniosacral therapy. She later received her certification from Dr. Nancy Soliven as an animal craniosacral therapist.
Polly received animal communication training from Mary Getton, as well as Jeri Ryan of the Assisi Institute, and completed advanced training with Penelope Smith in Point Reyes, California. She is a reiki master teacher, conducts small group reiki training classes, and practices reiki with large and small animals. Polly also completed her Small Animal Massage Practitioner training through the Northwest School of Animal Massage where she is also an instructor.
Polly has been interviewed by the Seattle Times, appeared on television's "Evening Magazine", and guest speaker for "Conscious Talk Radio" and "Contact Radio". Her writings have been published in Puget Sound Pet, on-line as MSN's "Dog Central", and in the anthologies HorseDreams: The Meaning of Horses in Women's Lives and Good Grief: Finding Peace After Pet Loss. Additionally, she serves as a consultant to veterinarians.
Her earliest therapeutic practice was counseling families, where she focused her work on children living with cancer. Bringing this knowledge and training from her human counseling practice into her current healing work, she assists animals and their people to understand and resolve the emotional and energetic components of their behavioral and health issues. Tonglen Healing Arts for Animals is based in Issaquah, Washington, where Polly lives with her three dogs, two cats, parrot, a pond of goldfish, a daughter and son.