Natural Cleanse with Ayurvedic Herbs, Food & Yoga (AYUR - 13NATU12)
December 7th, 2013 9:00 AM through 5:00 PM
14500 Juanita Dr. NE




Bastyr University


ROOM 286


Kenmore

,

WA

98028-4966




United States
| | |
| --- | --- |
| Professional after 11/13 | $ 145.00 |
| Bastyr/NIAOM alumni after 11/13 | $ 135.00 |
| General public after 11/13 | $ 145.00 |
| BU staff after 11/13 | $ 125.00 |
| Full time student | $ 50.00 |
| | |
| --- | --- |
| Audience | general public, health care professionals, full time students, acupuncturists, massage therapists, physical & occupational therapists, nutritionists, & dieticians |
| | |
| --- | --- |
| Exclude from main events feed | No |
Boost your physical vitality and mental creativity. Lose weight naturally while increasing your physical energy and mental clarity. You can accomplish all this by doing a natural cleanse with ayurvedic herbs, foods and yoga routines. Learn simple cleansing steps and health recipes from Dr. Shanbhag, an ayurvedic and naturopathic doctor with over 30 years of experience. Dec 7, Sat, 9a.m.-5p.m. Instructor: Vivek Shanbhag, ND, MD, BAMS, Cy Ed. 6.5 CEUs, PDAs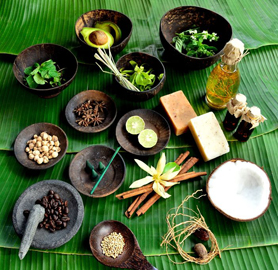 Ayurveda, an approach to health used in India for thousands of years, acknowledges that each person is a unique individual with a unique mind-body type. Explore ayurvedic daily and seasonal routines, as well as cleansing therapies which have rejuvenating anti-aging effects.
A natural cleanse involves adding specific vegetables, fruits, grains, lentils and seeds to your diet. Learn about culinary foods, herbs and spices, and their cleansing benefits. Explore how to prepare simple cleansing recipes for herb teas, vegetable soups, fruit juices, grain and lentil kichadis, and ghee. Also learn about which allergic foods and endotoxins to eliminate from the diet.
Explore ayurvedic panchakarma which includes cleansing routines like herbal oil massage, steaming and nasal drops. In addition, learn about yogic cleansing routines that will include stretches/postures, breath techniques and meditation.
Anyone can use these techniques to improve their own health, and health care practitioners can tailor cleansing routines for their patients.
Upon completion of the seminar you will be able to:
Describe an ayurvedic and yogic natural cleanse
List at least 10 cleansing foods, culinary herbs/spices and their cleansing benefits
Prepare simple cleansing recipes (herb teas, vegetable soups, fruit juices, kichadis and ghee)
Describe the benefits of at least three ayurvedic cleansing routines (i.e. Abhyanga Oil Massage, Swedan steaming, Udvartana herbal powder massage and Nasya nasal drops)
Describe at least three yogic cleansing asanas-postures, pranayama-breathing, meditation and mouna
Cost Note: Receive a discount, register by Nov. 13.
Course Note: You have the option to practice a few simple yoga poses. Wear comfortable, loose-fitting clothing.
Meals: One hour lunch break – Bring a sack lunch or eat in Bastyr's dining commons.
Location: Bastyr University Kenmore Campus, room #286. Bastyr University is housed in an older facility with fluctuating interior temperatures; it is advisable to wear layers. Also, Bastyr is a "fragrance-free" campus.
Optional Text: Beginner's Introduction to Ayurvedic MedicineI by Vivek Shanbhag.
This book may be available in the Bastyr Bookstore – call ahead to insure availability 425-602-3026,
Continuing Education Units (CEUs, PDAs, CMEs, CPEUs):
CEUs available for NDs (except CA & OR)
CEUs available for LMPs licensed in WA
CEUs available for PTs & OTs licensed in WA
NCBTMB CEs approved for LMPs
CEUs available for ARNPs and RNs licensed in WA
CEUs available for DCs licensed in WA
Category II CMEs available for MDs and PAs licensed in WA
NCCAOM PDA points approved for LAc's
CEUs approved for LAc's licensed in CA
ADA CPEUs approved for RDs
Dr. Vivek Shanbhag, ND, MD(Ayurveda), BAMS, CYEd is a licensed naturopathic doctor, ayurvedic practitioner, professor and author. He is the founder and director of YogaAyurveda.org -Natural Medicine Clinic, Academy and Wellness Spa in San Jose, CA. For over 30 years, he successfully ran various ayurveda, naturopathy and yoga institutions in U.S. and India. From 1989 to 2006 he was the founder and director of the AYU Ayurvedic Wellness Centre – Academy, Clinic & Spa in Seattle, WA. During 1991-96 he was the chairman of the Ayurvedic Medicine Department at Bastyr University. During 1985-88 he was the head of the Ayurvedic Research Institute in Pune, India. Currently, he is an adjunct faculty member of Bastyr University, MMI College of Ayurveda, Watsonville and Vedika Global.
Dr. Shanbhag is a member of the board of directors of California Association of Ayurvedic Medicine, and on the advisory board for the Association of Ayurvedic Professionals of North America and Light on Ayurveda Journal. He is the author of best-seller "Beginner's Introduction to Ayurveda". In 1988 he was awarded the prestigious I.I.M. Gold Medal for his MD-Ayurveda research thesis. In 2008 International Academy of Ayurveda Physicians honored him with the Vishwa Ayurveda Ratna Award.
In 2010 he won the Award for Excellence in Ayurvedic Teaching by the Association of Ayurvedic Professionals of North America. He has 16 years of post-secondary education in ayurveda, naturopathic medicine and yoga. He integrates ayurvedic and naturopathic medicine in his clinical practice, and specializes in treatment of chronic diseases and metabolic disorders.