Therapeutic Yoga: Unwinding the Links & Kinks Between the Pelvis & Shoulder Girdles (YOGA - 13UNWI11)
November 30th, 2013 10:00 AM through 5:00 PM
14500 Juanita Dr. NE




Bastyr University


ROOM 286


Kenmore

,

WA

98028-4966




United States
| | |
| --- | --- |
| Professional | $ 135.00 |
| Bastyr/NIAOM Alumni | $ 115.00 |
| General public | $ 135.00 |
| BU staff | $ 105.00 |
| Full time student | $ 50.00 |
| | |
| --- | --- |
| Audience | general public, health care professionals, full time students, acupuncturists, massage therapists, physical & occupational therapists, yoga practitioners, & reflexologists |
| | |
| --- | --- |
| Exclude from main events feed | No |
Many people simultaneously experience lower back pain and discomfort in their neck and shoulders. Practitioners often address these two concerns as if they are completely separate and unrelated. Through this workshop we will examine the lines of connectivity between the pelvic girdle and the shoulder girdle, and how each affects the other. The movements of yoga are particularly useful for this exploration because they encompass the whole body and are uniquely suited to an integrated understanding of how each part impacts the rest. Instructor: Robin Rothenberg, Certified Yoga Therapist. Nov 23, Sat, 10a.m-5p.m. 5.5 CEUs, PDAs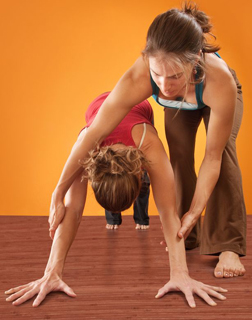 Using the fascia model delineated in Tom Myers book, Anatomy Trains, we will explore how tightness and weakness in the connective tissue pulls like snags in a sweater creating global tension. The often neglected mid-back will be awakened through practice to offer insight into how to integrate and balance the ailing parts above and below. This workshop will be largely experiential. However it is not intended to specifically resolve complex issues, such as SI dysfunction or rotator cuff problems. There will be big ideas offered and tools that will relate to conditions such as these, but we'll be working more to develop a general understanding of the relationship between the lower, middle and upper spine to increase awareness and proprioception.
Upon completion of this seminar you will be able to:
Describe the connection between the pelvic girdle and the shoulder girdle
Explain how the five primary directions of movement (forward bend, back bend, lateral bend, twist and axial extension), weave into the Anatomy Trains Template.
Explain the importance of the Deep Front Line - or Core Line in maintaining structural health
Activate the breath in ways to support core engagement
Activate the breath in ways to support development of axial extension and thoracic expansion
Use the awareness and interconnectivity of breath and movement to resolve areas of chronic pain and discomfort
Please Bring: Yoga mat, large towel or blanket, and comfortable clothes for movement.
Meals: One hour lunch break – Bring a sack lunch or eat in Bastyr's dining commons
Location: Bastyr University Kenmore Campus, room #286. Bastyr University is housed in an older facility with fluctuating interior temperatures; it is advisable to wear layers. Also, Bastyr is a "fragrance-free" campus.
Optional Text: The Essential Low Back Program, by Robin Rothenberg, may be available in the Bastyr bookstore. Call ahead for availability, 425-602-3026.
Continuing Education Units (CEUs, PDAs, CMEs, CPEUs):
CEUs available for NDs (except CA & OR)
CEUs available for LMPs licensed in WA
CEUs available for PTs & OTs licensed in WA
CEUs available for LMPs licensed in WA
CEUs available for ARNPs and RNs licensed in WA
CEUs available for DCs licensed in WA
Category II CMEs available for MDs and PAs licensed in WA
NCCAOM PDA points approved for LAc's
CEUs approved for LAc's licensed in CA
ARCB CEs pending approval for reflexologists in WA
Robin Rothenberg, Certified Yoga Therapist
Robin Rothenberg is a Certified Yoga Therapist and teaches therapeutic classes at Evergreen Hospital and Village Green Yoga in Issaquah. She also has a full time yoga therapy practice at Rehab Options of Issaquah where she works with people suffering from chronic pain and illness. By synthesizing her years of training in the Iyengar and Viniyoga traditions, Robin has developed a unique, adaptive teaching style that incorporates yoga philosophy, functional and energetic anatomy to support her clients in cultivating healthier lives. Having experienced her own healing process through yoga in her twenties, Robin has dedicated herself to sharing the therapeutic wealth of yoga with others who also suffer from chronic pain and health conditions.
Robin is an internationally recognized yoga therapist who has developed the protocol for several National Institutes of Health studies on yoga therapy. She presents clinics and workshops around the country, and has taught "Foundations of Yoga Therapy" for four years at Mt. Royal University in Calgary. She is the author of The Essential Low Back Program: Relieve Pain and Restore Health, and Soothing the Spirit, a deep relaxation CD to reduce anxiety, stress and insomnia. Robin is program director for Essential Yoga Therapy, running trainings at the 500-YA level, and a two-year comprehensive Yoga Therapy Training for seasoned teachers.