Fundamentals of Ayurvedic Herbalism (AUR - 13FUND11)
November 16th, 2013 9:00 AM through November 17th, 2013 4:00 PM
14500 Juanita Dr. NE




Bastyr University


ROOM 55


Kenmore

,

WA

98028-4966




United States
| | |
| --- | --- |
| Professional | $ 135.00 |
| Bastyr/NIAOM Alumni | $ 115.00 |
| BU staff | $ 105.00 |
| Full time student | $ 75.00 |
| | |
| --- | --- |
| Audience | health care professinals, full time students, acupuncturists, nutritionists, dieticians & herbalists |
| | |
| --- | --- |
| Exclude from main events feed | No |
The Ayurvedic approach to herbal healing is the process of harmonizing the individual constitutional qualities with those contained in the plants to catalyze optimum physiological and mental functioning. At its core Ayurveda is truly an exemplar of a plant -centered system of traditional medicine. Gaining insight into the tradition of Ayurveda forms a firm foundation for applying botanical medicine in a skillful way. This seminar will focus on the intersection of Ayurveda's ancient wisdom and a simple and sustainable, plant-based approach to healthcare that is as applicable in the clinic as it is in the home. Instructor: William Siff, Clinical Herbalist, LAc. Nov 16-17, Sat & Sun, 9a.m.-4p.m. 11 CEUs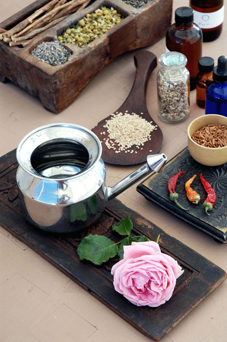 Ayurveda is a qualitative science based upon a deep experiential knowledge of the ways in which the five elements of nature circulate within and outside of us in a contiguous cycle. The play of elements manifests within the botanical world as perceivable energetic qualities, apprehending these is the key to unlocking their healing potential. The elements and the qualities they contain also form the structural and functional basis of our individual constitution.
In this seminar you will experience the way that plants communicate their healing properties through the language of the Five Elements and the 20 Gunas. The innate intelligence of our bodies unlocks the intelligence of the herbs in this vitalizing and visceral approach to understanding Ayurveda.
Build a contemplative practice of direct sensory perception of herbal energetics such as taste, temperature, moisture, and direction - deepening your ability to intuitively formulate and prescribe herbs for optimum results. Hands-on learning will be grounded in an extensive discussion of the foundational concepts of Ayurveda including the Tri-Dosha theory and the fundamentals of digestive health as the cornerstones of practicing this healing art. Finally, we'll bring it all together in a comprehensive, common sense lifestyle saturated in ancient wisdom and modern practicality.
Upon completion of the seminar you will be able to:
Describe the five primordial elements (Pancha Maha Bhuttas) as the foundation of Ayurvedic medical philosophy.
Describe Ayurvedic Tri-Dosha theory in order to assess individual constitutions as the basis for creating customized treatment protocols
Identify the 20 classical Gunas (qualities) as they manifest in our bodies, the herbs and the world around us
List key Ayurvedic, Chinese, and Western herbs
Describe the general effects, botanical characteristics, dosage, preparation, cautions, contraindications, growing habits, and cultivation of a variety of herbs
Describe the mechanics of digestive health as the cornerstone of optimal health
Describe how to apply the context and fundamentals of Ayurveda to Western herbalism
Meals: One hour lunch break – Bring a sack lunch or eat in Bastyr's dining commons.

Location: Bastyr University Kenmore Campus, room #55. Bastyr University is housed in an older facility with fluctuating interior temperatures; it is advisable to wear layers. Also, Bastyr is a "fragrance-free" campus.
Optional Text: The Way of Ayurvedic Herbs, by Michael Tierra may be available in the Bastyr bookstore. Call ahead for availability, 425-602-3152.
Continuing Education Units (CEUs, PDAs, CMEs, CPEUs):
CEUs available for NDs (except CA & OR)
CEUs available for ARNPs and RNs licensed in WA
Category II CMEs available for MDs and PAs licensed in WA
ADA CPEUs approved for RDs
CEUs available for herbalists
William Siff is a Clinical Herbalist, Licensed Acupuncturist and medicinal herb grower who draws from the Western, Chinese and Ayurvedic herbal traditions. He holds a Masters of Science in Acupuncture and Oriental medicine from Southwest Acupuncture College, is certified by the NCCAOM in Chinese Herbology, and is a professional member of the American Herbalist Guild.
For the past 10 years, Siff has owned and operated Goldthread Farm & Apothecary in Western Massachusetts - a center for herbal education, organic agriculture, essential oil distillation, medicine making and clinical patient care. Siff directs the innovative Farm to Pharmacy program, an internship that combines academic herbal theory with hands-on training in plant stewardship and clinical herbalism. Goldthread's mission is to catalyze the emergence of a new, plant-centered system of traditional medicine in this country to optimize the health of our families, communities, and society.
Siff regularly travels throughout the U.S. for teaching and speaking engagements on a range of subjects including his experiences with Goldthread's grassroots herbal medicine projects, the herbal lifestyle, essential oil distillation and therapeutics, as well as in-depth courses on specific health concerns and treatment protocols.