Pasture to Patients: Grooming Your Clinical Skills (PSYCH - 12PAST05)
May 18th, 2013 8:30 AM through May 19th, 2013 5:00 PM
6311 20th Ave NE




Winterpond Horse Stables




Redmond

,

WA

98053




United States
| | |
| --- | --- |
| Professional | $ 399.00 |
| Bastyr/NIAOM alumni | $ 359.00 |
| BU staff | $ 319.00 |
| Full time student | $ 95.00 |
| | |
| --- | --- |
| Audience | health care professionals, counselors, mental health therapists, social workers, massage therapists, physical & occupational therapists, full time students |
| | |
| --- | --- |
| Exclude from main events feed | No |
Horses bring a unique energy, joy and playful nature to their interactions with humans as well as with each other. Observing their social behaviors helps us to discover and develop mindfulness, better communication skills and social sensitivity. This workshop is designed to help healthcare practitioners and students develop an awareness of the subtleties of self-presentation and communication which are necessary for a positive provider-patient relationship. Our interpersonal skills, as much as the factual clinical information, influence the quality and effectiveness of these relationships. Instructors: Beth Avolio, PhD, Jana Sopher, MA, LMHCA, Nona Henderson, BS, Samantha Heath-Lange, BS May 18-19, Sat & Sun, 9a.m.-5p.m. 14 CEUs, PDAs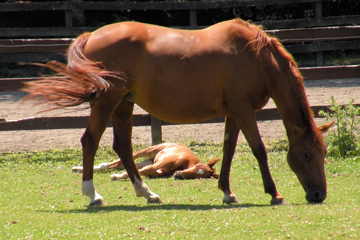 As prey animals, horses are keenly attuned to their surroundings for survival - aware of the slightest nuance in behavior and attitude. The horse sees us as we are and reflects those perceptions back to us, giving us immediate feedback. Unaware of human protocols and agendas, they can only respond honestly to us as we present ourselves to them in the moment, providing us the opportunity for self examination.
This workshop consists of experiential activities with horses that teach and reinforce dynamics of self awareness and awareness of others. You will move through a series of planned activities beginning with simple observation and culminating in challenging tasks. The activities will be easily related to areas such as establishing trust and acceptance, recognizing patient fears and dealing with resistance. All activities are conducted on the ground, with no riding involved and no previous experience with horses necessary. Although this workshop has been designed for health care practitioners, anyone over 18 is welcome to attend.
Upon completion of the seminar you will be able to:
Demonstrate the skill of giving your full attention to the patient
Identify patient nonverbal communications
Identify and demonstrate sensitivity to the expressions of fear and resistance in patients
Practice the ability to perceive personal space and boundaries
Gain greater awareness of how you approach patients and the impact upon them
Learn at least two methods to connect with patients and put them at ease
Identify and list your personal strengths within the medical/practitioner team
Enumerate at least one new collaboration and problem solving skill learned
Practice assessment, communication and leadership skills in a challenging and unfamiliar setting
Beth Avolio, PhD, has been using horses in therapy and experiential learning since 2003. She is a licensed psychologist in the states of Washington, Nebraska and New York. Dr. Avolio holds advanced certification through the Equine Assisted Growth and Learning Association (EAGALA) and serves as a mentor to others learning to use horses in therapy and coaching through this organization. Dr. Avolio has experience utilizing equine assisted learning (EAL) in areas such as corporate team building, helping physicians learn new communication skills and non-verbal behavior cues, and assisting students struggling with behavioral issues. She is a passionate believer in the efficacy of EAL to enhance personal insight and promote behavioral change. For this workshop she will be assisted by Nona Henderson BS, Jana Sopher MA, MLHCA, and Samantha Heath-Lange, BS.
Nona Henderson, BS
Nona Henderson's equine experience spans 20-plus years as an equestrian. Nona's passions are working with students using a variety of instructional methods, and breeding and riding horses. She is an equine specialist, certified by EGALA and she was also nationally recognized by American Hanoverian Society as a successful horse breeder. As a rider, she has participated in riding clinics instructed by U.S. and Canadian Olympic team members. As an educator, she holds a BS degree in Elementary and Special Education from the University of Idaho, and completed post graduate work at the University of Washington and Seattle Pacific University. She has 18 years of experience in the Washington public school system. She has a diversified instructional background which includes teaching in elementary classrooms and special education classrooms ranging from resource rooms to self-contained learning centers. Nona also has been an advocate and private tutor for special education students.
Jana Sopher, MA, LMHCA has a master's degree in counseling and is a Licensed Mental Health Counselor Associate in the state of Washington. She maintains a private practice and works with individuals, couples and groups. In addition to her private practice, she also offers Equine Assisted Psychotherapy (EAP) for individuals, group workshops and retreats. She is Level II certified through EAGALA. Being a watercolor artist and pianist with many years experience teaching in various capacities, she has a penchant for bringing out the creativity in people to change unhelpful patterns and effect their own growth. Jana has owned horses and enjoys what they bring to the counseling process toward healing, freedom, and insight.
Samantha Heath-Lange, BS grew up riding horses in southwest Washington. She took a brief hiatus from horses to attend the University of Washington where she graduated with a BS in Psychology, specializing in animal behavior. She studied psychological well-being in non-human primates and temperament in infant macaques and baboons at the U.W. Regional Primate Research Center. It wasn't much of a leap when she moved into Clinical Research and began studying humans. She helped screen and recruit patients for pharmaceutical studies for a few years and has worked in the Biotech/Pharmacology industry as a Clinical Data Manager.
Course Notes
Class is held off campus at: Winterpond Stables, 6311 20th Ave. NE, Redmond, WA 98053. All activities are conducted on the ground, with no riding involved and no previous experience with horses necessary. You will be walking among horses in both covered and uncovered arenas, so wear closed-toe shoes or boots, layered clothing, and parka in case of rain.
Bring a sack lunch & drinking water.
Continuing Education Units (CEUs, PDAs, CMEs, CPEUs):
CEUs available for NDs (except CA & OR)
CEUs available for marriage & family therapists, mental health counselors, and social workers licensed in WA
CEUs available for LMPs licensed in WA
CEUs available for physical & occupational therapists licensed in WA
NCBTMB CEs pending approval for LMPs
CEUs available for ARNPs and RNs licensed in WA
CEUs available for DCs licensed in WA
Category II CMEs available for MDs and PAs licensed in WA