Bowenwork Core Fundamentals (MASSAGE - 12BOWE03)
March 9th, 2013 9:00 AM through March 10th, 2013 6:00 PM
14500 Juanita Dr. NE




Bastyr University


ROOM 286


Kenmore

,

WA

98028-4966




United States
| | |
| --- | --- |
| Professional after Feb 17 | $ 475.00 |
| | |
| --- | --- |
| Audience | Healthcare professionals, massage therapists, physical & occupational therapists |
| | |
| --- | --- |
| Exclude from main events feed | No |
Bowenwork is a soft-tissue bodywork technique developed in Australia by Tom Bowen, starting in the early 50's and continuing into the 80's. The technique involves applying specialized "moves" to specific areas of the body in order to facilitate the release of dysfunctional tension patterns within the neuromuscular and fascial systems. The results of which promote optimal postural realignment, internal organ function and overall relaxation. The work is helpful for acute and chronic health conditions in babies, children and adults. March 9-10, Sat/Sun 9:00a.m.-6:00p.m. Instructor: Sandra Gustofson, RN, BSN 16 CEUs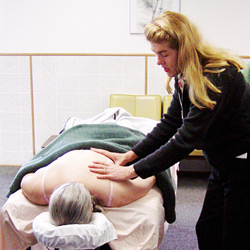 This seminar (equivalent to Bowenwork Module 1) covers the history and philosophy of Tom Bowen's development of what is now known as Bowenwork. You will learn the basic relaxation moves, which are the core moves that balance the entire body. You will also practice the kidney and headache procedures, as well as receive instructions for client self-care and client management.

The course is taught by hands-on demonstration, information from the provided manual, and close supervision while you practice with one another.
Upon successful completion of this seminar, those licensed to perform bodywork can immediately incorporate the Bowenwork moves into their patient care. If you wish to obtain Bowenwork certification, you must complete all six modules plus work on 10 case studies and record 50 hours of practice. Once these requirements are met, you are eligible to enroll in Module 7 which is an assessment class and is arranged as needed. These modules may be offered at other Washington sites.

The learning objectives of this seminar include:
Discuss the philosophy of Bowenwork - You will review the history of Bowenwork and develop a strong appreciation for the unique and holistic approach of Bowenwork in facilitating healing and promoting wellness in clients. You will discover that Bowenwork not only addresses musculo-skeletal issues, but also internal organ and nervous system conditions. The application of Bowenwork intrinsically elicits a "whole-body" response that supports the innate healing capacity of the body.
Discuss the physiology of Bowenwork moves –-You will explore the proprioceptive pathways within connective tissue and the central, peripheral and autonomic nervous systems. Bowenwork moves directly affect the proprioceptive organization of muscle stretch-length regulation, and this is one model of explanation of how the Bowenwork elicits response in the body.
Describe and demonstrate specialized Bowenwork moves on musculo-tendinous structures on the body - You will observe demonstrations of how a Bowenwork move is executed. You will perform the work yourself to develop tissue tension sensitivity in your fingers in order to sense the correct amount of pressure to be applied for a gentle yet effective response to the moves. You will also learn how and when to apply the work in specific areas and sequences, known as "procedures".
Identify the appropriate anatomical landmarks for placement of Bowenwork moves - You will learn basic palpation skills to enable you to identify the correct placement of Bowenwork moves.
Assess the client to determine which procedures would be most appropriate for each session - You will identify simple range of motion and postural alignment observations that will assist in choosing the most appropriate procedure for each Bowenwork session.
Evaluate the client's response to Bowenwork in a session - You will observe and listen to a client's bodily reactions and verbal responses to receiving Bowenwork.
Instruct the client in self-care after a Bowenwork session - You will learn to give clients specific recommendations to enhance the benefits of Bowenwork, and to manage any effects a client may experience after a session.
Discuss the principle concepts of a Bowenwork session -You will learn the importance of the "waits" (mandatory delays) in a Bowenwork session, the concept of "less is best," how to "feel" and "listen" to what the body tells you, and the exercises and client self-care instructions after a Bowenwork session.
Practice and demonstrate at least three Bowenwork procedures -The instructor will demonstrate and you will practice the following procedures: the basic relaxation moves, the kidney procedure, and the headache procedure.
Sandra Gustafson, RN, BSN, holds a bachelor's degree in nursing from James Cook University in Townsville, Australia; is a registered nurse who specialized in intensive care nursing until 2001. She also attended the Cairns College of Natural Therapies (Australia) to become a naturopathic practitioner.

She was trained in Bowenwork by the founders of the Bowen Therapy Academy of Australia, Ossie and Elaine Rentsch, and has been an accredited Bowenwork practitioner since 1991. In 1994, she became an instructor for the BTAA, and taught in Australia until 1999. She now teaches in the U.S. where she resides.

Sandra currently works in a medical and alternative therapies practice of integrative neurology, and uses Bowenwork extensively to support her clients. She has been actively involved in establishing the Bowenwork Academy USA, serving as president from 2005 to 2007 and is currently the treasurer.

Sandra has conducted Bowenwork training for both holistic and mainstream health care practitioners, and encourages the incorporation of the technique into conventional health care programs. To this end, she has presented this work to the integrative health faculty at the Mayo Clinic in 2005 as well as many other medical and health support groups over the years. She has also served as a presenter at international Bowenwork conferences at Yale University (2006), Salzburg, Austria (2007), and Winchester College, UK (2008) and Sydney, Australia (2010) and Courmayeur, Italy (2012).

Sandra lives in Northern California with her husband. Her personal interests include growing organic vegetables, camping, hiking, swimming and overseas travel.

Continuing Education Units (CEUs, PDAs, CMEs, CPEUs):
CEUs available for NDs (except CA and OR)
CEUs available for LMPs licensed in WA
NCBTMB CEs available for LMPs
CEUs available for ARNPs and RNs licensed in WA
CEUs available for DCs licensed in WA
Category II CMEs available for MDs and PAs licensed in WA
NCCAOM PDA points available for LAc's
CEUs available for OTs & PTs licensed in WA
Course Notes:
Course fee includes a manual ($25 value) and one-year membership with Bowenwork Academy USA ($75 value).

Techniques are demonstrated and practiced on students attending the class. To insure safety, close supervision is maintained by the instructor. If you have any health conditions that may be affected by this work during the practice sessions, please let us know prior to class start.
Bring a blanket and pillow. Also, bring/wear light, loose-fitting clothing (shorts and t-shirt recommended) so that it is easy for the instructor and the students to palpate anatomical locations on the body. Be sure your nails are short and clean.
Location:
Bastyr University Kenmore Campus, room 286. Bastyr University is housed in an older facility with fluctuating interior temperatures; it is advisable to wear layers. Also, Bastyr is a "fragrance-free" campus.
One hour lunch break – Bring a sack lunch or eat in Bastyr's dining commons.